RSI Towline Conveyor Systems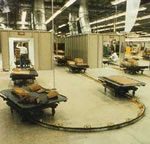 RSI Towline Conveyor Systems
The RSI Tow Line Conveyor System is ideal for the production of items that require progressive or sequential operations. The system can be specified as an in-floor or on-floor system that moves product through progressive workstations for different production applications.
RSI is a world leading supplier of surface finishing and material handling systems, serving the wood, metal and plastic industries. RSI has successfully integrated the latest, unique technology with the ultimate in product transport systems, giving the customer a single source solution to their production problems, from start to finish!
The patented RSI In-Floor and On-Floor Tow Line Conveyor Systems are used throughout manufacturing, assembly, finishing and material handling applications. There are currently a multitude of Rhodes Tow Line Conveyor Systems operating worldwide. Systems range from thirty feet in length to over seventy-two hundred feet in length.
Total System Access – Total system access is one of the many features of The RSI In-Floor Tow Line Conveyor System. The system is virtually free of structural interference. Throughout the entire conveyor, employees have the freedom of mobility with access around and between carts. Because of the simple modular design of The Rhodes Conveyor, systems can be easily and quickly expanded, preventing costly plant shutdowns with minimum or no loss of production.
Power and Free – The RSI Tow Line Conveyor is a power and free system. Unlike other conventional systems utilizing fixed cart spacing, carts on The Rhodes Tow Line Conveyor can be placed into workstations upon request, processed on a variable time frame, then randomly distributed back into the system for additional operations.
Durability – Robust components used on The Rhodes Tow Line Conveyor Systems have been time tested to ensure that they adhere to the highest standards of quality, longevity and merchantability.
Variable Centers – The RSI Tow Line Conveyors have the capability to easily accommodate infinite variable centers. The system has been engineered to run multiple drives on one precision calibrated tow line chain. Accordingly, every horizontal chain link is a potential cart center. Spacing of carts is unlimited.
Cart Delay and Close Packing – The RSI Tow Line Conveyor allows the tow pin, on any cart in the system, to disengage the chain. This delays the cart at preset workstations. The next approaching cart causes this delayed cart to re-engage the chain and continue on, allowing the next cart to enter the workstation. Carts will stop and remain in zero-pressure accumulation whenever encountering a track-mounted stop devise. When the stop is released, the cart will automatically engage the chain and continue through the system. Cost savings abound with cart accumulation as equipment sizes are reduced and valuable plant space is saved.
The patented RSI On-Floor Tow Conveyor is economical. It is a mounted conveyor system that is located on the existing floor, used in finishing rooms, assembly and warehouse areas of manufacturing plants.
The system allows for easy installation and expansion on existing wood, metal or concrete floors.
Advantages
With the RSI On Floor System, carts and products are placed onto the system, processed, then conveyed to another location. Carts may also be delivered into workstations upon request and processed on a variable time frame. Carts can be accumulated at various locations for staging and prolonged drying or processing times. This system has the capability to stop individual carts in workstations while the rest of the system continues to operate. The RSI On-Floor system is perfectly suited for applications where future expansions or reconfiguration is a concern. All Rhodes Tow Conveyor Systems offer the following features:
-Cart accumulation or "close pack"
-Cart delay in workstations
-Cart-on-Call variable cart delay in workstations
Applications:
-Pallet Handling
-Finishing Systems
-Drum Handling
-Progressive Assembly
-Warehousing
-Product Transport
The patented RSI In-Floor Tow Conveyor is an economical in-floor mounted conveyor system used in finishing rooms, assembly, and warehouse areas of manufacturing plants.
ADVANTAGES
With the RSI In-Floor Tow Conveyor, carts can be conveyed to a workstation upon request, then released to the main line and sent to the next station. This system enables carts to stop in work locations while the rest of the system continues to operate. At staging and queue areas, carts can be indexed and accumulated as required.
The RSI In-Floor Tow Conveyor features inline conveying for roll handling and progressive assembly, palletizing and packaging. An optional automatic load and unload feature is also available.
-Cart transfer units are designed to route products to designated areas of the plant
-Cart removal from the system is accomplished easily for a specific task with the Rhodes In-Floor -Tow Conveyor
Drag Chain Conveyor
RSI "MAX TOW" Drag Chain Conveyor , using rivetless chain, is able to move a wide variety of products. This provides an ergonomic solution for many heavy applications that would otherwise be very time consuming to perform. This line can be applied to heavy manufacturing for the desired process such as welding, assembly, Finishing, transporting at "creeping speeds" or indexing.
Speeds range from 1 inch per minute to 5 inches per minute constant moving or index mode from work station to work station at higher speeds.
Please contact us for additional information on how we can help you design a Drag Chain Conveyor that will suit your requirements!
Forged Rivetless Chain has a high strength-to-weight ratio, capability to flex both horizontally and vertically, and ability to be assembled without tools and remain assembled in service, all contribute to make this type of chain the logical choice for long service with minimum maintenance cost. All chain parts are drop steel for maximum strength. Special alloys are available and chain parts can be heat treated and magnafluxed, if required. Pins are placed through the center link and held in position by notches in the side bars when they are installed. Symmetrical design of the pin allows for 180° rotation if new wear surfaces should be required
With this capability, RSI can and will be able to design a system that will be able to carry your product and provide maximum use of your work area. We can and will provide a system that best meets your needs. The RSI Drag Chain Conveyor can be mounted either on-floor or in-floor, for your convenience. RSI designs the conveyor to meet your needs!